Zack Seemiller – "The consummate entertainer"
From Pittsburgh, Pennsylvania, Zack Seemiller was born in 1968 to Joe and Theresa Seemiller. He graduated from high school in 1986. He had no formal music training until 1991 when he ventured to Hollywood, California to study vocals and music at the Music Institute of Technology (MIT). Many famous music stars were lecturing and teaching 40 vocal and over 800 guitar students there.
A year after Zack graduated from MIT, I love how that sounds, he returned to Pittsburgh and received a call from a friend in Big Pine to work. He tested the Keys environment and loved it. He started working in Key West and joined a band call Grooveyard, performing with them for almost ten years. They played the East Coast and also toured Europe, mainly Germany and Austria, playing festivals and some smaller clubs and having great fun.
One of Zack's most memorable experiences in Key West was recording live at Schooner Wharf Bar in 1994. The Grooveyard album, Live on the Rocks, included Zack along with Kenny Albert, Max McCann, and David Kangas on saxophone. Several of the band members got married, started families, and moved on. They broke up in 1999.
Zack still travels the East Coast every summer. He toured Charleston and Nashville this past year. He plays solo gigs and also with different groups. Zack and Caffeine Carl Wagoner became special friends and have performed together for almost 25 years. They first performed at Virgilio's, later playing Sloppy Joe's and almost every other venue in Key West.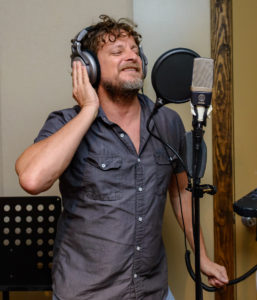 His recorded albums are Kokopelli (a native American god of fertility), Sunshine and Rain, Live at Sloppy Joe's, and his famous Christmas album, Conch Christmas. Lately, he has been recording single songs and releasing them online.
He laments the days of getting a brand-new album in the mail and the excitement of opening a new CD and testing it. The nature of the current music business is online streaming. Very few artists sell CDs at gigs these days. Zack gives them away at his performances. However, he still spins a lot of vinyl while at home enjoying music.
Like many artists sitting in a studio, playing their music repeatedly is not as much fun as a live recording. He currently has a good deal of unrecorded music but is working to record them all.
Zack tries to incorporate as much of his original music in his performances as possible. Some venues are better than others for original music. A venue where the audience is listening to the music is special. Zack feels he can easily clear a room at some venues with original songs. At other venues, the originals work well because the audience is interested in you and your music. Zack and Carl open almost every gig with one of Zack's original song, "I Live on an Island." They try hard to incorporate their originals.
For six years, Zack has been working with graphic designer, Susan Sypniewski, who is a big fan and visits from New Jersey frequently. She incorporates photos of Zack into sometimes very abstract, always humorous and in good taste, promotional designs. It has been very successful in broadening the Zack Seemiller audience appeal, branding, and selling his merchandise.
Susan commented how their work together "started out as a logo (design) but became a social media ad. Then bringing Zack's fans and friends to laugh and smile each day makes me enjoy what I do. Especially when Key West is a special place for me." One of Susan's designs included a post of Zack and Carl as Butch and Sundance, they focused on the letter "Z" in earlier promotions, and many more parodies. The "Zack Ross" parody was exceptionally funny.
Zack's son Kai, now 23, has followed in his father's footsteps as an accomplished guitarist and he especially enjoys performing with Kai. Kai is currently attending the Gallop Guitar School in Michigan, learning to make guitars.
A consummate entertainer, Zack has always been a fan favorite. His high leg kicks are famous and frequently requested by the audience. He has also expanded into comedy. He always incorporated some comedy in his music performances but started serious comedy entertainment three years ago. He opened for Saturday Night Live comedian, Kevin Nealon this past March at the Key West Theater. Zack feels Key West is becoming a serious music destination, and the future looks great.
There are no comments yet, add one below.